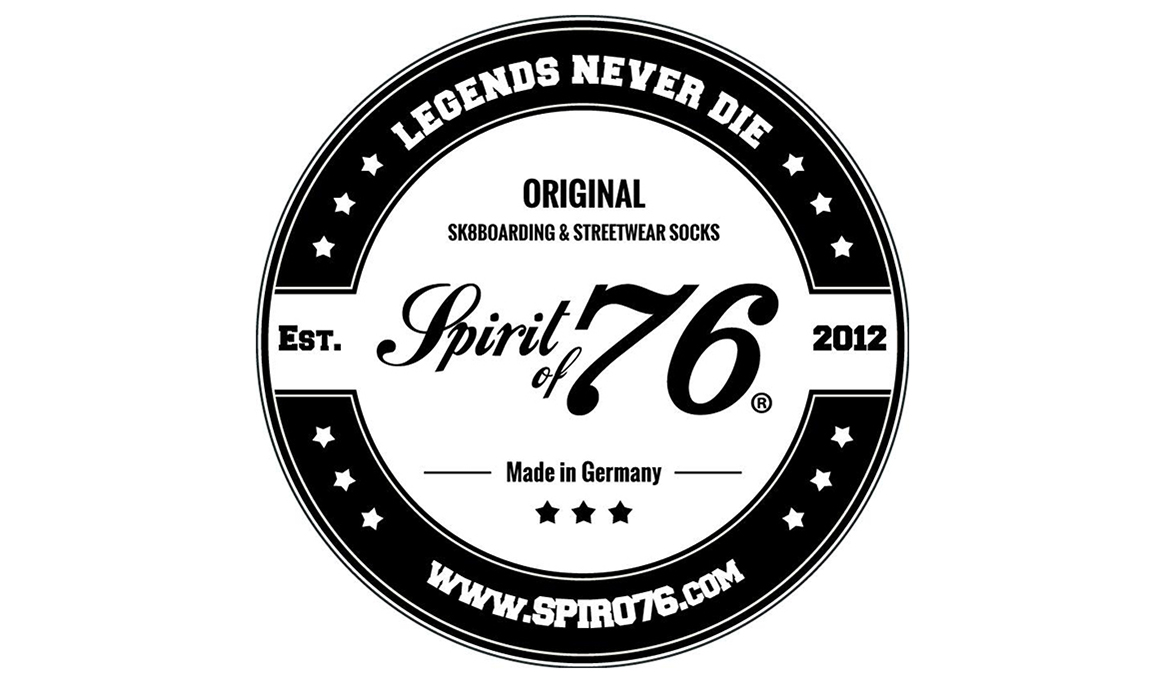 Spirit of 76®
Retro Skater Socks & Tube Socks - Made in Germany!
WE ARE SPIRIT OF 76
Inspired by the alternative Californian lifestyle of the late 70's, Spirit of 76® stands for finest quality skateboarding & streetwear socks with high wearing comfort. Our knee high striped tube socks and our crew socks are a must have for all skaters, bikers, roller derby & rockabilly fans or every oldschool addict. YES, we care! Due to the local production in Germany, we can doubtlessly ensure the responsible, ecofriendly and sustainable production of our skater socks under fair working conditions.
Keep the Spirit of 76 alive!

---
1976 – Dogtown – California
Unlimited freedom, feeling alive, endless summer, all day at the beach, sun, palm trees, pure feelings. Hot summer nights, wild parties, open minded and forever young.
Hardcore skate sessions in the concrete parks of the west coast. Illegal trespassing across the deserted neighborhood fences. Heartbeat. Rattling rolls over the mosaic of the empty pools. Relaxed surf on the blue waves of the Pacific Ocean. Warm wind running through the hair while cruising down to the pier – always headed towards the sundown, striped tube socks on the feet. Endless cohesion, team spirit, love and fierce rebellion of the youth, of the skater, surfer und BMXer, the musicians, artists and all those, who wanted to stand out of the crowd - the beginning of a wonderful era.
2012 – Frankfurt – Germany
Performance pressure, fast pace of life, social constraints, stereotypical thinking. Unhealthy perfectionism, higher-faster-further-mentality - the world is not enough! Rules, regulations, red sings. Smog, noise, hectic people with cramped faces. Grey skyscrapers scratching the sky, the view on freedom clouded. Unresisting going with the flow.
And in the middle of it all, a passionate skater asking himself: what the hell has happened?!
This is why we decided to create "Spirit of 76". Combining the best of the past with todays possibilities, we aim to create something unique and to keep the Spirit of 76 alive.
By creating a special mix of the classic old school skater style and modern materials, our socks are resistant and skateable but can also be worn in everyday life. High Quality "Made in Germany" at fair prices is important to us. Your satisfaction is our biggest success.
Share the passion with us…


…keep the Spirit of 76 alive.
---